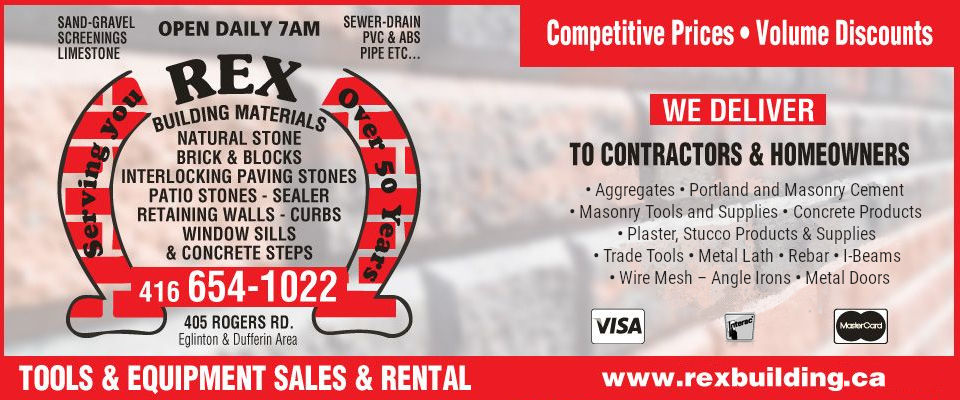 We Flex to Your Needs. If We Don't Have It, We'll Get It.
Rex Building Materials: Your One-Stop Shop for Construction Suppliers
For more than 50 years, Rex Building Materials has proudly served GTA homeowners and contractors, providing dependable, professional service and all the tools, equipment and materials you need to get your next project off the ground. Count on us for high-quality construction supplies in York.
Here to Accommodate Your Needs
Nothing is more important to us than providing you with friendly, knowledgeable assistance and a satisfying experience. We go out of our way to find out-of-stock products and offer prompt service and delivery. Whether you're a cash-and-carry customer or an account holder, we want you to feel at home. Come and have a coffee with us.
Competitive Pricing and Volume Discounts
Whether you're in to rent equipment or stock up on a wide array of some of the best available products on the market today, we're sure to have what you need, all at competitive prices. Landscaping and concrete products, aggregates and more, we serve a variety of tradespeople—and the do-it-your-selfers, too.
One-Stop-Solution
Whether you need cement aggregates, sand, bricks or even wood supplies, rely on us for all your construction needs in York. You can expect durable, high quality products at Rex Building Materials for all your projects and properties.
If you are planning to make the property fire-resistant or non-combustible, we supply suitable materials as well. Plan your requirements properly and come to us; we'll supply you with materials
We always go above and beyond to ensure that you get the right materials for your project. Reach out to us if you have further questions. We will be happy to guide you in selecting from our wide range of supplies.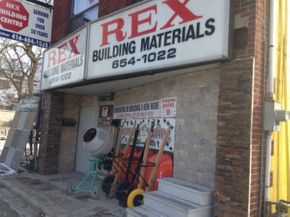 Come see us in York Ontario
Get a Free Quote
We also offer equipment rental services. Contact us for a free quote, or come by our shop for construction supplies in York. We're located between Dufferin and Keele, south of Eglinton.